One Wilson Square - LOCATION
Only a few short minutes away is an exclusive golf club, which boasts of a luxurious championship course, site of the prestigious World Cup and other world golf events. Play the elegant slopes and curves of Wack Wack Golf & Country Club, where only champions of the sport, the best of the best, are welcome.
A fun, relaxing and fulfilling life begins at One Wilson Square. We take you to easy living by taking care of maintaining your home and escorting your children to school with our free, convenient and environment-friendly shuttle service. So you'll have plenty of time to spend on the more important things in life – you and your family.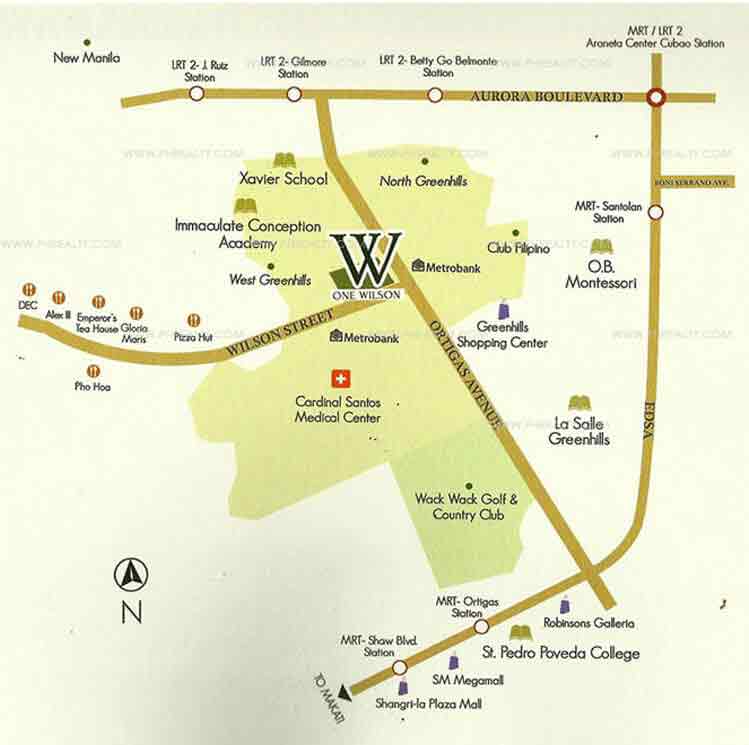 One Wilson Square is located in Greenhills, San Juan – one of the hub for business and shopping in this part of Metro Manila. This is an exclusive address known for its affluent options. Hence, being able to live in a condo within this address is a coveted dream for many aspiring condo buyers. One Wilson Square is therefore your ticket to having an address to call your own in this coveted Greenhills area of San Juan.
San Juan is the smallest city in the Philippines, not just in Metro Manila. Historically speaking, this is the site of the first Battle of Katipunan. But apart from its storied past, this is one of the fastest growing cities in the Philippines since it was incorporated as part of Metro Manila. Aside from being one of the fastest developing cities in Metro Manila, it is also conveniently located to other major cities in the metro such as Quezon City, Mandaluyong and Manila itself. It is divided into 2 districts and Greenhills is located in District 2 of San Juan. In addition, there are several notable people (from the political scene or of show business celebrities) that call San Juan home, which includes former Philippine President Joseph Estrada.
Due to its prime status as a major business and shopping center in San Juan, Greenhills is home to the finest educational institutions. For higher education, there is the campus of the Polytechnic University of the Philippines. aside from the PUP campus, there are several other nearby schools such as OB Montessori Center, Xavier School, La Salle Greenhills, and the Immaculate Conception Academy. Meanwhile, there are also several notable places of worship but probably none as notable as the Saint John the Baptist Parish and the oldest existing church, Santuario del Santo Cristo.
For your lifestyle needs, you can get easy access to the major establishments in Greenhills from One Wilson Square. For your shopping and retail needs, you can head to GStrip, Greenhills Shopping Center, V Mall, or Unimart. All of these shopping centers and malls are located less than 1 kilometer from One Wilson Square. Thus, you do not have to get out of Greenhills or travel far to satisfy your shopping needs. If you need to make a quick stop for a coffee, or have dinner with your family outside of your condo unit, you will be spoiled for options in Greenhills, San Juan. The most popular restaurants in Greenhills include House of Wagyu, Sbarro, Sunmoon Seafood House, Carousel Creamery, and Amici, to name a few.
In case of medical emergencies and other health needs, you can also get access to prime and highest quality medical care in Greenhills. One Wilson Square is located within a little over a kilometer to the following medical centers and health care facilities: PNP General Hospital, Camp Aguinaldo Station Hospital, Cardinal Santos Medical Center and the Little Baguio Health Center.
On top of the conveniences, the Feng Shui masters also consider Greenhills as the "belly of the dragon". For the Chinese beliefs, this means that people who live in or do business within this area are going to prosper. Whether you believe in Feng Shui or not, it only further cements the idea that Greenhills is the hottest real estate destination in Metro Manila.